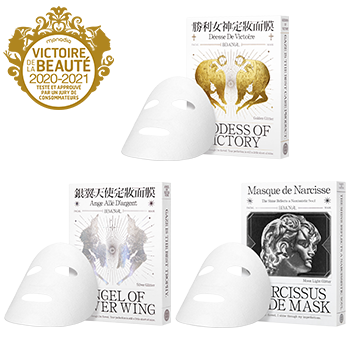 3 major functions in one simple step:
Pre-Makeup Skincare, Pearlescent look and Prolong makeup lifespan.
Japanese world-leading mask paper technology with Glitter Powder essence from Germany complies with EU regulations.

GODDESS of VICTORY【Moisturize】Put on a pro-makeup session.
ANGEL of SILVER WING【Oil-Control】Almighty oil-control makeup setting.
Narcissus Nude【Glam】Glamours skin in 10 minutes.

Consumers' review
"Mask covers the entire face. It is pleasant and leaves the skin smooth and clean."
Fabienne, 53 ans
"Easy to apply and use. Highly moisturisering."
Françoise, 29 ans
"My skin is easy to clean when removing the mask. Leaves my skin soft and feeling comfortable."
Virginie, 36 ans
This product is available:
Direct selling, On-line