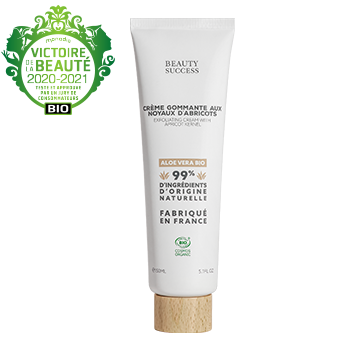 The BEAUTY SUCCESS brand extends its BIO certified skincare products: more than 99% ingredients of natural origin, the products are made in France and respectful of the environment.
The new Body Exfoliating Cream with Apricot Kernel has a smooth creamy texture and gently exfoliates the body.
Its formula contains ORGANIC Apricot Kernels which exfoliate the skin without attacking it and ORGANIC Shea Butter with nourishing and protective properties.
The skin is hydrated, SMOOTH and COMFORTABLE.

Consumers' review
"Soft exfoliating scrub, my skin is soft with a pleasant scent."
Marine
"Fragrance, grain size and the smoothing effect on my skin."
Daphné
"Soft skin, impurities are removed, skin is soothed."
Caroline
This product is available:
Exclusively in Beauty Success Stores